Maximize IT Asset Management in ServiceNow 
Our hardware logistics and lifecycle services + top asset tracking software solution for ServiceNow
Installation
We purchase, receive, set up and send out with your data accurately reflected in ServiceNow.
Operate
We manage the entire hardware lifecycle and can assess, optimize, and audit your IT asset management practices.
Retire
We safely and securely retire and dispose of assets, including data wiping, remarketing and recycling.  With reporting and archived chain of custody in ServiceNow.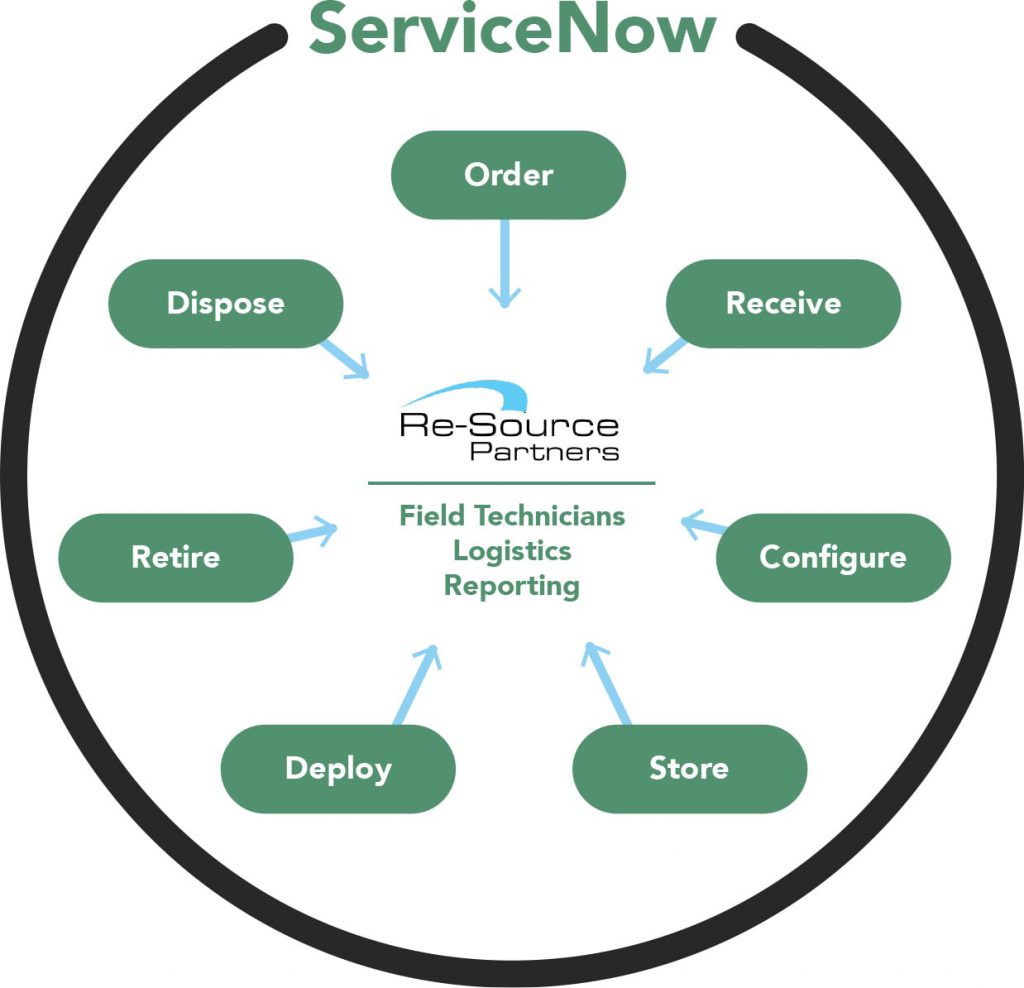 Go from Underachieving...
Do these problems sound familiar?  Field techs who don't want or have time to keep track of hardware. Inconsistent processes. Ghost assets. Missing IT equipment.
Enterprises can be stuck in a cycle of waste and inefficiency, exposed to security and compliance risk.
Choose full lifecycle services or outsource specific steps.  Our workforce, processes, technology tools and facilities are designed to protect, simplify and automate the management of hardware. That's real-world digital transformation.
We Make IT Asset Management Easy:

We CARE for your equipment
---
From the day it arrives, to when it's ready to be retired, we do it all. Our people have you covered, and you can rest assured that your people have what they need, when they need it.

We TRACK your equipment
---
We track everything, all the time powered by AssetTrack. This gives you real-time information about where every piece is.

You SEE everything
---
You have complete control of accurate data and can see exactly what you have and where it is. Just what you need to better manage security, compliance, costs and availability.
"In the 10+ years that we have been working with Re-Source Partners, we have come to trust that their integrity, knowledge and expertise in IT asset management and data security makes them a reliable partner. Their attention to quality and customer service is vital in our industry and makes any interactions we have with them seamless and trustworthy."
"Resource Partners has always displayed extraordinary customer service and quick turn arounds when called upon.  And For that, I just want to say thank you." 
"…15 years of dedicated, detail-oriented customer service.  It is always a pleasure dealing with Re-Source Partners!"
"From the time I started doing business with Re-Source Partners in 2003, I have been treated with the utmost respect and integrity.  Whether going up front in the office or back in the warehouse, everybody at Re-Source goes out of their way to make sure I am fully taken care of with my business.  I am looking forward to a continuing relationship for many more years to come."
"For the past 15 years, I have enjoyed a business relationship with Re-Source Partners that is second to none. From quality gear, to a friendly, knowledgeable and helpful staff, it's easy to maintain confidence in Re-Source Partners."
"Re-Source Partners services (i.e processing used computers from womb to tomb) are reliable, and prices are fair. They treat my business as a partner in the sense that they are conscientious about volume needed to make a deal work, and expediency in time delivery and efficiency of product being purchased/sold/delivered." 
"Re-Source Partners are efficient and knowledgeable about their product.  The most important part is I can trust their team to respond adequately and in a timely manner."
"I have been doing business with Denise and Re-Source Partners for years and she does a great job and is very easy to do business with. She is very thorough in her job and gets orders together quickly and on time. If there ever is an issue, she takes care of it immediately. She is one of the people I truly trust and enjoy doing business with. I know I can always count on her to get things done."
Customers Love Our Services Because We Create Results That Matter.